STUDY ABROAD OFFER
GAUDEAMUS BRNO 23rd - 26th November 2021
Come and get acquainted with international universities and their offer. Studying abroad will open your doors to the world!
STUDY AT A UK UNIVERSITY
unilink ADVISORY CENTER
UniLink is the only UK graduate study center offering free services. The Advisory Center team is made up of graduates and students of British universities who want to pass on their experience and thus facilitate admission and study at international universities to other enthusiastic and promising students from the Czech Republic.
UniLink offers study at more than 50 UK partner universities! The universities represented in the consulting center stand can be found in the list of exhibitors.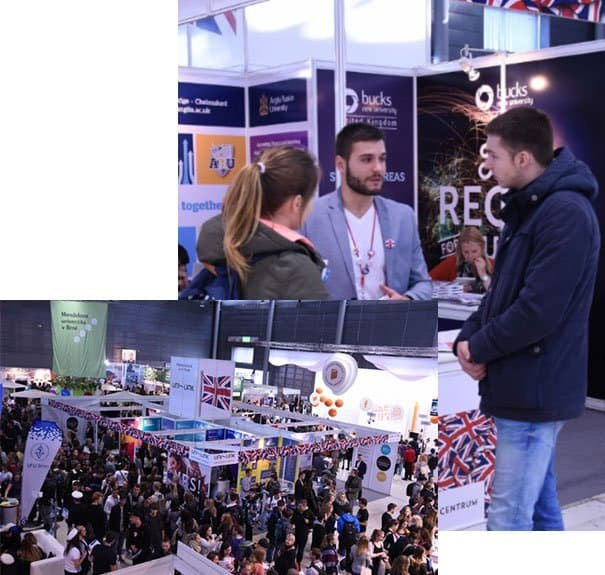 WHAT CAN WE HELP YOU WITH?

Choosing the right university and field of study

Meeting the admission criteria

Getting trought the admission process

Get your tuition financing and apply for scholarships

Improving and testing your level of English

Finding accommodation and a part-time job

Buying plane tickets and airport transfers

Arranging everything before your departure

Arranging the student's status in Czech Republic
EXPAND YOUR HORIZONS
STUDY ABROAD OFFER IN VARIOUS COUNTRIES

DAAD - Studium v Německu
centrála v Bonnu, pobočka v Berlíně
69 zahraničních poboček a informačních center
DAAD v České republice
od roku 1963 výměna vědeckých pracovníků a umělců
ročně cca 1000 stipendií pro Čechy ve všech programech
11 lektorátů a 1 odborná docentura DAAD na českých univerzitách, činnost jazykových asistentů DAAD
partnerství mezi vysokými školami, partnerství mezi ústavy germanistiky
od roku 2000: činnost Informačního centra DAAD v Praze (IC DAAD Praha)
IC DAAD Praha, www.daad.cz
informace o možnostech studia a výzkumu v Německu
poradenství německým a českým vědcům a institucím při vědecké spolupráci
informace o nabídce stipendií DAAD a jiných německých organizací
organizace výběrového řízení uchazečů o stipendium v ČR
spolupráce s českými a německými institucemi působícími v oblasti kultury a vzdělávání
organizace informačních přednášek, spolupořádání kulturně-vzdělávacích akcí
Užitečné odkazy


CAMPUS FRANCE
Campus France is the French national agency for the promotion of higher education, international student services and international mobility.
Campus France Czech Republic and Slovakia will help you through the various steps of your departure to France. You can get personalized support free of charge regarding:
Comprehensive information on French higher education (universities, Grandes Ecoles, specialized schools…)
Information about available scholarships
Orientation: choosing the best program for you among 36000 possibilities, in French or in English!
Assistance with your applications to universities and scholarships.
Preparation of your departure (accommodation, life style in France, student jobs…)
4 French schools, offering French and English programs, will be present with us:
Sciences Po, Political Sciences School
CESI, Engineering School
Mod'Spe Paris Central Europe
Montpellier Business School
The Alliance Française will give you information as well, about French classes and various events they organize in Brno.

UNIVERSITY COLLEGE BIRMINGHAM
University College Birmingham už devátým rokem přijíždí prezentovat svoje prestižní obory hotelového managementu, cestovního ruchu, marketingu, vrcholového kulinářství, sportovního a event managementu. V Brně je však potkáte ve stylovém, britském double-decker autobusu, který je připraven studenty přivítat, pohodlně usadit a odprezentovat jim možnosti studia za pomoci čerpání peněz od britské vlády. Potkáte se se současnými studenty, ale i s magisterským absolventem Anetou Řezníkovou, která je reprezentantem pro Českou republiku a Slovensko a již dlouhá léta pomáhá studentům zorientovat se v nabídce oborů,
s přijímacím řízením, stejně jako s přípravou na odcestování za hranice Vašich domovů. Důkladná péče a osobní přístup je to, na čem si UCB zakládá nejen
na území států, kde má svoje reprezentanty, ale také na univerzitě samotné.

SCANDINAVIAN STUDY A I-STUDY
Sníš o studiu, které Ti umožní cestovat, poznávát nové kultury a zdokonalit se v angličtině? Chceš zažít studium, které je kombinací teorie a praxe s možností stáží v rámci výuky?
Odjeď studovat do zahraničí s pomocí I-STUDY, mladou a přátelskou agenturou, která Ti pomůže opustit komfortní zónu a umožnit splnit si sen v podobbě bakalářského či magisterského studia ve Skandinávii, Velké Británii nebo Nizozemsku.
Navštiv náš stánek a přesvědč se, že studium v zahraničí může být dostupné opravdu pro každého!
V nabídce budou tyto univerzity:
Dánsko:
AAU - Aalborg University
AU - Aarhus University
BAAA - Business Academy Aarhus
BASW - Business Academy Southwest
CBA - Copenhagen Business Academy
DANIA - University of Applied Sciences
EAL - University of Applied Sciences
IBA - International Business Academy
KEA - Copenhagen School of Design and Technology
UCN - University College of Northern Denmark
VIA - University College
ZIBAT - Zealand Institute of Business and Technology

Velká Británie:
Aberystwyth University
Bangor University
Birmingham City University
Coventry University
De Montfort University
Liverpool Hope University
Liverpool University
London South Bank University
Nottingham Trent University
Richmond, The American University
Southampton Solent University
University of Essex
University of Sunderland
University of Worcester
Winchester University
University of Essex
Nottingham Trent University

Nizozemsko:
Inholland University of Applied Sciences
Saxion University of Applied Sciences

Švédsko:
TAKE ADVANTAGE OF THIS LIFETIME OPORTUNITY
STUDY OPPORTUNITIES IN CHINA
Xi'an Conservatory of Music
Xi'an Conservatory of Music was founded in 1949 which the predecessor was Northwest Art School set up by Marshal He Long in Shansi-Suiyuan Liberated Area in 1948.Xi'an Conservatory of Music is one of the 11 independent Conservatories of Music in China and the only independent one in Northwestern China.
The conservatory covers an area of 89,000 square meters and the construction area is about 289,000 square meters. The number of teachers and employees,including 140 professors and associate professors,is 508.The number of students is 5,344,including 4,420 full-time undergraduate students,420 post-graduates,and 494 students in the Affiliated Middle School.
Our conservatory offers 10 undergraduate majors including two first-class subjects of Art Theories and Music & Dance Studies and 12 second-class master's degree programs covering all of the 57 major fields.
We have won multiple important prizes: Second-Prize of National Science &Technology Progress, Gold Award of Verdi International Vocal Music Competition, Special Award of Viola Competition in Italy, Chorus Gold Medal of China Music Golden Bell Award, China Gold Record Award, Plum Blossom Prize, Bel Canto Gold Medal and Chorus Silver Medal of CCTV Singers TV Grand Competition and Bronze Medal of CCTV TV Dance Grand Competition.
Xi'an Academy of Fine Arts
Xi'an Academy of Fine Arts was founded in 1949. Since its foundation, Xi'an Academy of Fine Arts has abided by the motto of "carrying forward beauty and virtue and creating the now by virtue of the ancient". For a long time, based on the schooling philosophy of "tradition-based, for contemporary use, strengthened connotation and characteristic development", the Academy has been gradually forming a fine art education system of strong foundation, reasonable structure and distinctive characteristics.
The Academy is entitled to award doctoral and master's degree of three first-level discipline which are artistic theory, fine arts and design science, it is among the first batch of units authorized to grant master degree (1981) and the ninth batch of units authorized to grant doctoral degree (2003) approved by the Academic Degrees Committee of the State Council. In 2014, the Academy was approved to set up a center for art post-doctoral studies. In 2007, the Academy achieved "excellent" in the undergraduate teaching evaluation organized by the Ministry of Education. In 2011 the Academy was listed as one of 11 high-level and distinctive key construction universities of Shaanxi Province.
Shaanxi University of Chinese Medicine
Based on the Northwest Training School of Chinese Medicine which was founded in Xi'an in 1952, Shaanxi University of Chinese Medicine was founded in 1959, moving to Xianyang in 1961. Our university is one of the first colleges of TCM in the northwest of China for cultivating high-level talents on traditional Chinese medicine and pharmacology. Our university is one of the eight key-constructive universities on TCM confirmed by the central government's No.56 document in 1978 and is one of the first-batches for right to confer master degree of TCM granted by Academic Degrees Committee of the State Council in 1981. It was approved by MOE to enroll international students and students from Hong Kong, Macao and Taiwan in 1990. For more than 60 years' development, it has become a medical university with the TCM and TCD as the core, science, literature, management, and engineering as multidisciplinary support
Baoji University of Arts and Sciences
Facts and figures:
Founded in 1958
China's first University of Arts and Sciences
2 campuses, covers an area of 181.2 acres
17 colleges
66 undergraduate courses
7 first-level academic master degree programs and 5 specialized master degree programs
19137 full-time undergraduate and postgraduate students
1385 teaching and administrative staff
Over 120 Chinese and foreign part-time or distinguished professors
More than 120,000 alumni
University honors:
To be awarded the National Outstanding University in Undergraduate Teaching by the Ministry of Education in 2008
To be granted to award the master degrees by the Academic Degrees Committee of the State Council in 2013
To be listed in the project of building new doctoral degree awarding units by Shaanxi province in July 2017
Education Department of Shaanxi Provincial Government and the People's Government of Baoji signed the agreement of jointly advancing to build high-level Baoji University in October 2017
Our development vision:
By 2020, the university will be renamed Baoji University, which will be transformed from teaching to a teaching research university. And it will be among the high-level universities in Shaanxi province.
By 2030, the university will be awarded a doctorate degree awarding unit, and a high level of teaching research university will be completed.
Shaanxi Xueqian Normal University
Shaanxi Xueqian Normal University (SXNU) is a full-time public undergraduate university, established by Shaanxi Provincial Government and administered by Education Department of Shaanxi Provincial Government. The mission of SXNU is to root in Shaanxi and contribute to society; to provide offer teacher education and early childhood education; to cultivate practical talents with good moral, solid fundament academic fundation, strong capacity, high caliber and great innovation; to build an application-oriented university with characteristics. SXNU is rich in history. It was originally established in 1963 as Shaanxi Education College by the combination of Xi'an Normal School which was built in 1906 and Shaanxi Teacher Advanced Studies School which was built in 1956. In March 2012, upon the approval of the Ministry of Education and Shaanxi Provincial Government, it was renamed as Shaanxi Xueqian Normal University. With more than 15000 registered students currently, SXNU has 14 departments/majors, and has more than 900 faculty and staff members, among whom hold more than 300 senior professionals. With two campuses in downtown Xi'an and Chang'an district respectively and a total area of 72000㎡.
Yulin University
Yulin University (YLU) is located in the city of Yulin, designated as one of the famous historical and cultural cities in China by the State Council. It features Energy and Chemistry Engineering with the advantage of standing in one of the State-level energy bases - Yulin City. YLU is a public university directly under the Shaanxi Provincial Government, and is entitled to offer both degree and non-degree programs.
YLU grew out of Suide Teachers' College, established in the year of 1958. In 1980 the college moved from the northern suburbs of Suide City to the western suburbs of Yulin City. In 1991 the college was renamed Yulin College after merging with Yulin College of Agriculture and Forestry, which was set up in 1985. In 2003, with the approval of the Ministry of Education, the college, which used to offer non-degree programs only, was upgraded to a university, thereby becoming entitled to offer both degree and non-degree programs. In 2018, YLU was designated by the Ministry of Education as a new authorized unit for Master Degree, and was also designated by Shaanxi Provincial Government as a first-class application-oriented undergraduate university construction unit. After 60 years of great efforts, YLU is an environmentally beautiful and well-furnished modern institution of higher learning. The campus is set amidst picturesque scenery with many trees, green grass, running water and fragrant flowers, making it an excellent environment for teaching, learning and living.
YLU covers an area of 560,000 m2. With 13 schools, 1 department, 7 research centers and institutes, YLU provides a complete range of education programs in social science, natural science, engineering, technology, management, arts, law and education, including 55 undergraduate programs. There are approximately 13,000 full-time registered students. The staff totals 974, of which 759 belong to the faculty, including 81 professors and 267 associate professors. YLU also recruits 6 foreign experts each year and 30 scholars have been engaged as part-time professors. YLU Campus LAN, which is connected with Internet through fibers optics, operates at 1,000 M bps. The Journal of Yulin University and The Yulin University Newspaper are distributed throughout the country.
YLU is actively engaged in international exchange and cooperation programs, and has built up strong ties with foreign and overseas universities and international organizations, such as University of Wolverhampton in the UK, Arkansas State University and Valparaiso University in the US, University of Canberra in Australia, Silla University in Korea, Osaka University in Japan, University of Malaya in Malaysia, Northern University of Malaysia, Putra University of Malaysia, ESIC Business and Marketing School in Spain, Tamkang University and Chaoyang University of Technology in Taiwan, and VSO and OTP in Britain and AFS in the US. YLU and University of Wolverhampton has an ongoing Ministry-of-Education's approved joint-undergraduate program, and YLU and Valparaiso University has an ongoing joint-postgraduate program.
Over the last 60 years, YLU has graduated 60,000 students, who are working in different sectors of the local community and have made remarkable contributions to the development of the regional economy and the local society.
YLU's strategic plan, through optimizing its disciplinary structures and continuously improving its teaching quality, is to develop into a regional comprehensive application-oriented university. YLU will then provide an even more complete range of education programs and train a greater variety of qualified personnel not only for the Yulin Area but also for the whole of Northern Shaanxi and the other neighboring regions. To achieve this goal, YLU will make every effort to perfect the programs intended to train future middle school teachers, attach great importance to programs for training agronomic and husbandry technicians, lay special emphasis on the development of programs in the areas of energy resources, chemical industry, machinery, electrical engineering and business management. In the meantime, YLU will continue the development of continuing education, vocational education and vocational training. To sum up, YLU will engage with the local government in the design and development of the economy, society and culture of the local and neighboring communities, and develop itself into a regional, technical, personnel training center, an applied scientific research center, an information center and an advanced culture center.
Shaanxi University of Technology
Shaanxi University of Technology (SUT) is located in a charming historical and cultural city – Hanzhong. In Hanzhong the summer is not too hot and the winter is not too cold and so this mild and moist climate is both suitable for studying and living in. Hanzhong is known as the birthplace of the Han nationality and the treasure bowl of China. It also has a reputation for its beauty, and because of this Hanzhong is regarded as "North West China's answer to the spectacular scenery found in the area south of the Yangtze River".
The school was founded in 1958 and it has experienced various stages of development since then. Over the years it has been known as Hanzhong College, Peking University Hanzhong Branch and Shaanxi Institute of Technology. In 2016, approved by the Ministry of Education, the school changed its name to Shaanxi University of Technology (SUT). SUT has three campuses with a total campus area of ​​1.36 million square meters. It currently has 17 colleges and 2 teaching and experimental training centers spread across these campuses. SUT offers a variety of 65 different undergraduate majors as well as 7 first-level master's degree programs and 6 other master's degree programs. SUT has 6 majors that are identified as key provincial fields of study (specialized disciplines). It also has a National and Local Joint Engineering Laboratory, a National Humanities and Social Sciences Popularization Base, and some other provincial level laboratories and research bases. SUT's teaching and research equipment is worth a total of 341 million RMB. The school has a collection of 2,235,300 books.
SUT has 1,182 full-time teachers, 3 Jointly-Employed academics, 1 of the Country's High-End Foreign Experts, and many other high-level talents, such as distinguished professors holding the Yangtze River Scholar Award, Shaanxi Province's "One Hundred Person Project", Shaanxi Province's "One Thousand Person Project" and so on. The school is the recipient of special subsidies from the State Council, national outstanding teachers' awards, the Zeng Xianzi Education Fund, and the Baosteel Outstanding Teachers Award. It boasts more than 40 recipients of honorary titles including Shaanxi Advanced Employee, Shaanxi Outstanding Teacher, Shaanxi Excellent Educator, Shaanxi Model Moral Example and Shaanxi Young Science and Technology Star. The school has a total of nearly 20,000 full-time students.
In order to continue to create a high-level applied university that keeps quality educational projects and teaching at the heart and which maintains distinctive features and interdisciplinary development, SUT eagerly welcomes individuals from Eastern Europe, who are outstanding in their field, to come and join us. Working together we can create a better future!
Xi'an Medical University
It was founded in 1951, named of Shaanxi Health School. After being named of Shaanxi Health Cadres' Institute and Shaanxi Medical Junior College, it was renamed as Xi'an Medical University by the Ministry of Education in 2006. The University consists of Guangguang Campus, Weiyang Campus and Gaoxin Campus. It has 5 affiliated hospitals, including Xi'an Medical College Affiliated Hospital (Shaanxi Provincial People's Hospital), First Affiliated Hospital, Second Affiliated Hospital, Affiliated Baoji Hospital and Affiliated Hanjiang Hospital. In 2017, the University was identified as a "First-class College" construction candidate by Shaanxi Province. There are 14 teaching units, including Clinical Medical School, Nursing School and Pharmaceutical School. It offers general undergraduate education, postgraduate education and continuing education. General undergraduate education offers 18 majors such as Clinical Medicine, Nursing and Pharmacy. The University has the right of degree-conferring in one first-level discipline of master's degree program, that is the Clinical Medicine. Also, it is the authorized degree-conferring centre for 16 second-level discipline of master's degree programs, including General Medicine, Internal Medicine and Surgery. The University has 1 provincial-level research center for Respiratory Disease Prevention and Treatment Project, 1 key provincial-level laboratory for Ischemic Cardiovascular Disease, 1 key provincial-level laboratory for Prevention and Treatment of Brain Diseases and 7 university-level research institutes (center).
At present, the University aims at vigorously implementing the strategy of "Strengthen University by Talents". The quality of its education and teaching, the level of scientific research and the ability of social services all need to be improved with our full effort. More than 10,000 teachers and students here are striving together to create a first-class University and develop Xi'an Medical University to Northwestern Medical University as soon as possible!
Xi'an University of Posts and Telecommunications
Xi'an University of Posts and Telecommunications (XUPT) is co-designed and implemented by the People's Government of Shaanxi Province and the Ministry of Industry and Information Technology.
The University is located in Xi'an, a historic city in Northwest China, famous for its magnificent ancient culture.
XUPT was founded in 1950 and gradually developed into a polytechnic university focusing on engineering and the specialization of information science technology. This regimen of engineering specialization has been consummated by integrating the disciplines of engineering, management, science, economics, the humanities, law, and art.
XUPT's academic and intellectual environment is enhanced by the natural surroundings and traditional architecture of the university's two locations, the Old Campus at Yanta, adjacent to the Wild Goose Pagoda of the Tang Dynasty; and the New Campus at Chang'An, north of the Zhongnan Mountains. Leaders, staff, faculty, students, and visitors enjoy the serene and peaceful ambiance that adds value to any educational or research endeavor.
The University covers a total area of 247 acres, with a current full-time student enrollment of 18,000.
XUPT maintains 43 Undergraduate Degree Programs, 47 Master Degree Programs, and 5 Professional Master Degree Programs.
In recent years, the University has undertaken 280 national, ministerial, and provincial research projects, including the National "863" High-Tech Research and Development Program; the National Natural Science Fund; the National Social Sciences Fund; the National "242" Information Security Program; the National Soft Science Research Program; the National Science and Technology Special Programs; and some major Shaanxi provincial projects.
XUPT established the "National Engineering Laboratory for Wireless Security", the "Shaanxi Provincial Research Center for Telecommunication ASIC Design", the "Key Social Research Center for Information Industry Development", the "Key Research Center of Application Specific Integrated Circuit(ASIC) Design", the "Key Laboratory of Modern Communication Technology", the"Software Engineering Lab", the "Post Information Network Lab", the "Key Laboratory of Economy System Simulation for Information Industry", the"Shaanxi Technology Support Center of Network and Information Security", the"Shaanxi Innovation Research Center of ITI", the "High Performance Computing Research Center of Shaanxi Province", and so on.
Confronted with the new century's challenging requirements for the development of sophisticated talent and the implementation of China's unique plan for fostering the electronic information industry, XUPT recognizes the importance of exceptional teaching quality and initiates appropriate strategies to achieve this formidable objective. Moreover, XUPT's leaders, staff, faculty, and students are inspired and motivated by the University's commitment to academic excellence and enduring determination to maintain its prominent reputation, thus XUPT's position in the intellectual community is illuminated by a rededicated effort to attain the highest achievements possible in all educational commitments for generations to come.
Xi'an International Studies University
Xi'an International Studies University, or XISU, was founded in 1952. It is one of the earliest four foreign language institutions established in new China. As the only comprehensive university in the northwest region featuring foreign language education, it is one of the high-level universities under the key construction of Shaanxi province.
XISU is located in Xi'an, one of the world's four historical and cultural cities. It covers an area of 1593mu (or 1,062,000m2) with a building area of 801,000 square meters. XISU vigorously promotes the construction of smart campus, with the realization of a complete coverage of wired and wireless networks, rich resources for high-quality network teaching, and the establishment of public service platforms such as digital campus.
XISU has 22 schools (departments). It offers doctoral degrees in one first-level discipline and 13 second-level disciplines, and has a center for post-doctoral studies. It offers master's degrees in 7 first-level disciplines, 74 second-level disciplines, and 9 professional programs. Together with 56 undergraduate programs, XISU is a multidisciplinary foreign studies university with humanities as the main body, with the coordinated development of social sciences, economics, management, science, law, education and arts.
XISU has signed cooperation agreements with 216 higher institutions and research institutions in 42 countries and regions, carried out joint training projects for students of different levels, and implemented academic exchanges and cooperation projects including the exchange of teachers and students, mutual recognition of credits, mutual award of degrees, and joint organization of international conferences. XISU has been identified by the Ministry of Education as the designated institution for the China-US Fulbright Program, the Outstanding Undergraduate Study Abroad Program, and the Young Backbone Teacher Study Abroad Program of the China Scholarship Council. It is also the recipient of the National Government Scholarship Program for overseas students to study in China.
Xi'an Physical Education University
Founded in 1954, Xi'an Physical Education University (XPEU) is one of the first six sport universities of P. R. China. XPEU is now constructed jointly by Shaanxi Provincial Government and General Administration of Sport of China.
XPEU owns three campuses: Main campus, Fengyukou campus and Huyi campus. There are 8 departments(Physical Education, Sports Training, Martial Arts, Sports Sociology and Sports Leisure, Sports Body Science, Sports Media, Sports Arts, Sports Economy and Sports Management), two schools (Graduate School, Ideological and Political School), Continuing Education College, Football College and an Affiliated Competitive Sport School. XPEU has rich qualified teaching staff, there are 578 teachers engaged in professional teaching. XPEU enrolls students throughout the country. Presently, there are 8,819 full-time students (8,148 undergraduates, 671 master's degree candidates).
There are 21 undergraduate specialties, which cover six academic categories of economics, science, education, liberal arts, management and arts. Moreover, there are 3 national featured specialties, 3 provincial featured specialties, 3 provincial pilot projects, 1 national key discipline, 12 provincial key disciplines, 6 provincial excellent teaching teams, 3 provincial experiment demonstration centers, and 5 provincial innovative experimental sections of talent training.
There are 2 first-level disciplines and 10 second-level disciplines for graduate studies, 1 Shaanxi provincial key discipline, 2 construction projects of philosophy and social science of higher education. It has collaborated with Shanghai University of Sport and other universities to develop doctoral program since 2004. XPEU is now actively applying for the right to grant a doctor's degree in physical education.
XPEU has a variety of national and provincial sports training bases, sports training bases, scientific research bases and national key laboratories. XPEU also puts emphasis on international education, cooperates and communicates actively with foreign countries. It has established cooperative relationship with more than 30 universities and research institutions.
Northwest University
Founded in 1902, Northwest University (NWU) is one of the key public comprehensive universities in China. The University is located in the famous ancient yet modern city Xi'an. It is selected as one of the first batch of the National World-class Discipline Construction Universities, and one of the leading universities sponsored by the national "211 Project." NWU is currently under the joint administration of the Ministry of Education and Shaanxi province. NWU has 3 campuses, with 23 Schools and Departments covering 10 major disciplines offering 86 undergraduate programs, cover master degrees in 37 first-tier disciplines, plus professional programs in 14 categories and doctoral degrees in 24 first-tier disciplines. The four disciplines of Geology, Chemistry, Material Science and Engineering entered into top 1% by ESI. Currently, NWU has a student population of over 26,000 including 8,200 graduate students and more than 1,000 international students.
NWU has been honored as "the Mother of Chinese Petroleum Engineering," "the Cradle of Economists," "the Cradle of Writers" and "NWU Media Hosts Phenomenon" by media. More than 10,000 international students from over 50 countries and regions have studied at NWU since 1965.
Xi'an University of Architecture and Technology
Xi'an University of Architecture and Technology (XAUAT) is located in Xi'an, a city with long history and deep culture. With a profound history of school running, XAUAT is one of the "Most Time-Honored Eight Civil Engineering and Architecture Universities" in China.
XAUAT has 17 schools and 1 graduate school. Totally, there are around 40,000 students and 2,800 teaching and administrative staff, 2 academicians of the Chinese Academy of Engineering (CAE) and 5 dual-employed academicians. After 60 years of development, XAUAT has successfully developed into a multidisciplinary university with civil engineering, architecture, environment and municipal infrastructure, material and metallurgy as major specialties, with all the other majors in the field of engineering, science, management, art, literature, law and economy.
XAUAT has 3 national key subjects, which are structural engineering, environmental engineering and architecture design and theory, 9 first-level doctoral programs, 25 first-level master programs and 33 academic and technological innovation platforms at the national and provincial levels.
XAUAT attaches great importance to international exchange and cooperation. Until now, we have established exchange and cooperation relationship with more than 80 overseas universities and colleges. Annually, about 700 teachers and students are sent abroad for overseas exchange. In 2012, along with Luleå Municipal Government and Luleå University of Technology, we established the Luleå Confucius Institute. At the end of 2016, we launched the School of International Education for international students. In the May of 2017, with the approval of the Ministry of Education, XAUAT and University of South Australia jointly established a Sino-foreign cooperative educational institution----AnDe College, which is the first Sino-foreign cooperatively-run school in northwest China which includes both bachelor program and master program.
Xi'an University of Science and Technology
Xi'an University of Science and Technology (XUST) is a university co-sponsored by the State Bureau of Production Safety Supervision and Management and the People's Government of Shaanxi Province. As one of the key high-level universities in Shaanxi as well as in the middle west China, XUST is an important training base and scientific research center which cultivates professionals of geology,mining,safety science and engineering. Located in Xi'an, the capital city of Shaanxi Province, XUST has two campuses: the head one located in Yanta District and the new one in Lintong District. XUST owns 18 colleges and departments, 6 post-doctoral centers, 7first-level disciplines and 40 second-level disciplines to grant doctoral degree, 25 first-level disciplines and 107 second-level disciplines to grant master's degree, 18 cultivation programs on Master of Engineering, 1 MBA program on master's degree and 1 MPAcc program on master's degree as well as 56 undergraduate programs. Featured in Mining, Geology, and the relevant disciplines, it has now grown into a well-rounded university with 23,000 full-time students, integrating the primary subject of engineering with subjects of science, literature, management, law, economics and art.
Xi'an Shiyou University
First:The first petro-petrochemical institute founded by PRC in 1951
Unique: The only university in northwest China features in petroleum engineering and petro-chemical engineering.
Outstanding: University supported by Shaanxi Government.
Three: The universities has three campuses, covers an area of 2133 acres in total.
Excellent: rated as excellent in national assessment of undergraduate education quality in 2007.
Feature Programs: 5 national specialty programs, 10 brand programs and 5 characteristic programs of Shaanxi Province.
Key labs: 24 National and Provincial Laboratories
Seven: Characteristic research field
Outstanding Engineers Plan: 5 national advanced programs of "Outstanding Engineers Training Plan"
Student Awards: won more than 1600 rewards of technological competitions at provincial level or above.
Internationalization: conducting exchanges and cooperation with 59 institutions globally ,recruited students from 62 countries, authorized Chinese Government Scholarship university, member of the Universities Alliance of the New Silk Road, Association of Sino-Russian Technical Universities, CCN, Belt & Road University and Enterprises Alliance.
Scholarship opportunities: Chinese Government Scholarships
China government scholarship -Sino Russian cultural exchanges
Shaanxi Provincial Government Scholarship – SanQin Scholarship
Xi'an Shiyou University Scholarship-New Students
Xi'an Shiyou University Scholarship- Academic Outstanding Students
High Employment Rate:The employment rate of Xi'an Shiyou University graduate students constantly stays over 90% for 23 years, which won XSYU the honor of Advanced Unit of Graduate Employment from both Ministry of Education and Shaanxi Province. International graduates have the job opportunity offered by multinational corporations such as CNPC, Shell, as well as many overseas branches of Chinese oil companies.
Xi'an Technological University
Xi'an Technological University (XATU) was founded in 1955.now.It is a key higher learning institute financially aided by Shaanxi Provincial Government .With 60 years development, it has grown up into a comprehensive university which focuses on engineering while supporting a broad range of liberal arts and sciences for the coordinated development of its multi-disciplinary curriculum.
There are 14 faculties in XATU covering the fields of engineering, science, management, economics, law, literature, education and arts. XATU provide 55 undergraduate programs, 62 master degree programs, 7 doctoral degree programs and 3 centers for postdoctoral research.
At present, possess 4 campuses, Weiyang, Jinhua, Yanta, and Gaoling, of which Weiyang Campus, located on the idyllic shores of Weiyang Lake in Xi'an, serves as the main campus. Among XATU's full-time faculty members (around 1600), there are more than 470 with high professional titles. 20000 undergraduate students and 1600 masters and doctoral candidates are pursuing their degrees on campuses.
XATU forms a "focusing on engineering, arts and science courses supporting the coordinated development of multi-disciplinary" discipline layout. In the process of discipline construction and development, the school focus on highlighting science industry characteristics, take the road of production, teaching and research integration; promote the full integration of school and the local economic development.
Xi'an University of Technology
Xi'an University of Technology (XUT) is the high-level university mainly constructed by Shaanxi Province; it is also a university supported by the plan on infrastructure construction for midwest universities under the National Revitalization Program for Higher Education in the Midwest. XUT serves proudly as one of the important training bases and scientific research centers for advanced talents specializing in water resources and hydroelectric, equipment manufacturing as well as printing and packaging.
XUT is located in the world historical ancient city, one of the birthplaces of Chinese civilization, Xi'an. It is comprised of Jinhua, Qujiang and Lianhu campuses and one science park.
XUT is one of the first batches of universities in China authorized to confer the degrees for doctorate, master and bachelor. Presently, XUT possesses 14 first-level disciplines and 41 second-level disciplines to grant the doctorial degree, owns 25 first-level disciplines, and 91 second-level disciplines to grant the master's degree, all degree-granting rights covers the whole programs of the bachelor's degree. It has 9 academic fields covering economics, law, education, literature, science, engineering, agriculture, management and art. Among those many disciplines, the first-level discipline Hydraulic Engineering is designated as state key discipline (covering 5 second-level disciplines ) and 21others including Mechanical Manufacture and Automation are designated as provincial key disciplinces in Shaanxi. 12 others including Materials Science and Engineering are designated as preponderant disciplines in Shaanxi. Top 1% of ESI global rankings in engineering discipline. XUT is also authorized to confer the degrees for MF, Ed. M, MTI, ME, MPAcc, MBA and EMBA.
XUT has about 2500 members of faculty and staff, of which more than 800 are professors and associate professors. Currently, it has 12 academician studios, 1 chair professor studio (academician), 3 dual-employed academician, 4 professor titled as a leading nationwide outstanding professional and technical talent awarded by the talent projects of "Ten Thousand-Talent Plan" and "Hundred-Thousand-Ten Thousand Program", 1 professor selected by the "National Youth Thousand-Talent Plan", 1 team was awarded the honorary title "Huang Danian-style Research Team", 2 winners of national outstanding youth scientific fund, etc. XUT insists on equal importance to teaching and scientific research and pays equal attention to free exploration and application research. Facing the main battlefield of state economic construction, XUT carries out the scientific research with great efforts, the strength of scientific research is improved greatly in recent years.
For a long time, XUT carries forward the university spirit of "Working hard, exerting constantly", inherits its motto of "Nation, Honor, Responsibility" and adheres to its education idea of "cultivating students as a core, combing the learning and practice as a whole", XUT makes the improvement of teaching quality for a center work and fully strengthens the connotation construction, both the competency and social status have gained great progress. Nowadays, XUT is making great endeavors to be a top university with the characters of engineering-featured, multidisciplinary-coordinated and teaching-and-research-oriented.
Chang'an University
Directly affiliated to the Ministry of Education of the People's Republic of China, Chang'an University is one of the State "211 Project" key development universities jointly run by the Ministry of Education, Ministry of Transport, Ministry of Land Resources, Ministry of Housing and Urban Rural Construction and Shaanxi Provincial Government. It is concurrently one of the key development universities on the State "985" Project advantage discipline innovation platform. The university was officially established in the year 2000 by merging the former Xi'an Highway University, Xi'an Engineering Institute and Northwest Institute of Construction Engineering, which were founded in the early 1950s. Chang'an University is located in the historical and cultural city of Xi'an and covers an area of more than 3,745 mu (approximately 250 hectares). The university comprises two teaching campuses and two practice bases. Through its 60 years of development, it has evolved into an influential comprehensive higher institution in China, with engineering as its main discipline focus, combining engineering with sciences, and with multidisciplinary development in economy, management and humanities. It has graduated more than 250,000 talents of different levels, mainly in the fields of highway transportation, land resources and environment and construction engineering.
Shaanxi Normal University
Directly administered by the Ministry of Education of China, Shaanxi Normal University, a key university under the construction plan of China's national "211 Project" and a university under China's Innovation Platform Construction Plan of the"985" Superior Discipline of Teacher Education, is a major base for training teachers and administrators of higher learning institutes and secondary schools as well as other high-level professionals in China, and is known as the "Cradle of Teachers" in Northwest China.
The University, situated in the ancient capital city of Xi'an, one of the four internationally renowned historical and cultural cities, was founded in 1944 under its original name "Shaanxi Provincial Teachers' College", and then renamed "Xi'an Teachers' College" in 1954. In 1960, it merged with "Shaanxi Teachers' College" to become "Shaanxi Normal University". In 1978, it was brought under the direct administration of the Ministry of Education of China.
During its more than 70-year history in education, the University, while rooted in China's West, has embraced the whole country, developed a school spirit of "Morality, Learning, Aspiration and Action" and has seen itself become firmly established in Western China as an influential top-tier comprehensive teachers training university, as it strives to achieve the goal of building itself to be a major comprehensive research university distinguished by its teacher education.
The current University CPC Commitee secretary is Prof. Cheng Guangxu, while Prof. You Xuqun serves as the university president.
The University, admitting students from 31 provinces, municipalities and autonomous regions nationwide, in addition to admitting postgraduate students from the regions of Hong Kong, Macau and Taiwan, currently has 17,600 full-time undergraduate students and 17,400 postgraduate students, with more than 41,500 students in continuous education and long-distance learning programs, as well as more than 1,100 international students.
The University currently has more than 1,700 full-time teachers, among whom there are about 400 full professors, 700 associate professors and 293 doctoral advisors, with 71% of them holders of doctoral degrees.
The University hosts 18 post-doctoral mobile research stations, one National Engineering Laboratory, one Ministry of Education humanities and social science research base, four Ministry of Education key laboratories and engineering research centers, one State Sports Administration Sports Sociology key research base, 14 Shaanxi Provincial key laboratories and engineering research centers, four Shaanxi Provincial key humanities and social science research bases, 12 Shaanxi Provincial laboratory teaching demonstration centers, as well as 60 other research centers and institutions.
Xidian University
Xidian University (Xidian for short), under the jurisdiction of the Ministry of Education, is one of the key universities which have National Advantage Discipline Innovation Platform, and which are supported by the 211 Project. In 2017, Xidian was selected in the national "Double First-Class" university project. The engineering discipline and computer science ranked in top 1‰ according to the latest sites. In 2014, Xidian taked the lead in setting up Collaborative Innovation Center of Information Sensing Technology which is enlisted in the Universities Innovation Upgrading Plan (2011 Project for short). It dedicates primarily to electronics and information education and research and also covers a wide range of academic subjects including engineering, science, management, economy, arts and social sciences.
Xidian is one of the universities in China which pioneered in setting up the majors of information theory, information system engineering, radar, microwave antenna, electronic machinery, electronic countermeasures. At present, Xidian has 2 first-level national key disciplines, 1 second-level national key discipline, 34 ministerial and provincial key disciplines. There are 4 state key laboratories, 5 key laboratories of the Ministry of Education, 18 provincial key laboratories and national defense research institute and aero-space research institutes.
Since its establishment over 87 years ago, Xidian has cultivated a number of outstanding talents, including 19 academicians of the Academy of Sciences and the Academy of Engineering and 23 IEEE fellows. Eminent alumni include Mr WANG Zhonglin, the Fellow of European Academy of Sciences and a well-known expert in nanotechnology, Mr. YANG Hong, the deputy chief designer of Shenzhou V and Shenzhou VI spaceship and the chief designer of Temple One target aircraft, Mr. LIU Chuanzhi, the Lenovo Chairman, and other entrepreneurs and elites. Thus, Xidian has made significant contribution to social and economic development.
Xidian sincerely invites outstanding talents from home and abroad to join.
Welcome to Join Xidian University!
Contact us:
HR Department, Xidian University
Add.:Box16-0823,266 Xinglong Section, Xifeng Road, Xi'an, P. R. China
Point of Contact: Mrs YIN Xuecong
Tel/Fax:+86-29-81891796
Email:HR@xidian.edu.cn
Web: https://www.xidian.edu.cn
Northwestern Polytechnical University
Located in the historic city of Xi'an, the cradle of Chinese civilization and terminus of the ancient Silk Road, Northwestern Polytechnical University (NPU) is the only multidisciplinary and research-oriented university in China that is simultaneously developing education and research programs in the fields of aeronautics, astronautics, and marine technology engineering. NPU was approved as a state key university by the state council. It ranked among China's top 15 universities in the state's Five-year plans, and NPU is one of the first 22 universities to have established a graduate school. It was one the first universities to enter the "211" and "985" project. NPU is a member of the "Outstanding University Alliance" program and is honored as a National Role Model Unit, NPU has put its roots down in the west; dedicated itself to national defense and written several "firsts" into the history of the PRC. Now NPU will continue to pioneer new pathways into the future in the process of building a world first-class university and world first-class disciplines.
Czech China Educational Exchange Association
Association Identity
The most influential non-governmental and non-profit organization in the field of cultural and educational exchanges between the two countries.
Association's Aim
As the most professional intellectual support and implementation organization in the field of culture and education between Czech and China, CCEEA aims to promote cultural and educational exchange and cooperation between the Czech Republic and the People's Republic of China.
Association's Mission
CCEEA provides professional and comprehensive services to the relevant institutions and individuals to benefit tens of thousands of students, deepens and expands exchange and cooperation between the two countries, facilitates cross country friendship, spares no effort to work for favorable conditions for the development of in-depth exchanges and cooperation in the field of culture and education through harmony and win-win attitude, comparative edges, co-existence and co-prosperity, common development.
Contact
Name: Czech China Educational Exchange Association, z. s.
Tel: +420 220 515 706
Contact person: Noemi Benešová-Guerrero
Email: benesova@czechchinaedu.com
Address: Haštalská 6, Praha 1, 110 00, Staré Město
Post code: 110 00
City: Prague
Country: Czech Republic
Web: http://czechchinaedu.com/
YOUR POSSIBILLITIES ARE LIMITLESS
ENCYCLOPEDIA OF STATES
Each country offers unique possibilities and experiences, but it also has its own specifics. In each country there are other conditions for foreign students, study costs, and conditions for entry and residence. At this point we are preparing an encyclopedia of states that will answer all questions about studying abroad.CONDITIONS OF STUDY IN INDIVIDUAL STATES
GET MAXIMUM INFORMATION BEFORE YOU HEAD OUT
LECTURES ABOUT STUDYING ABROAD