get to know the Gaudeamus exhibitions
European Higher Education and Lifelong Learning Exhibition Gaudeamus Brno • Prague • Nitra • Bratislava • Košice since 1994
WE ARE INTRODUCING
Gaudeamus higher education exhibitions
The Gaudeamus Exhibition is being held annually in four cities in the heart of Europe, providing a meeting place for students from Czech and Slovak Republic and educators from around the world. The aim of the exhibition is to create an efficient and cost-effective platform for international student recruitment.
The main groups of visitors are third year and final year high school students looking for undergraduate study opportunities. The exhibition is also visited by university students and graduates looking for graduate level studies and lifelong learning opportunities. More than 50 % of visitors are interested in some form of education abroad with this number increasing each year.
Exhibitors consist mainly of universities, colleges, polytechnics, language schools and study abroad providers. Exhibitors come from Czech Republic, Slovakia, EU member states and many other countries of the world.
| | | |
| --- | --- | --- |
| 58000+ | 500+ | 29 |
| Visitors each year | exhibitors from around the world | years of tradition |
WE ARE FOCUSED ON YOUR SUCCESS
about the gaudeamus exhibitions
The exhibition is focused on both university and non-university undergraduate and graduate studies and lifelong learning. The aim of the exhibition is to provide as much information as possible on higher education opportunities to graduates of secondary schools and to the whole range of people interested in lifelong learning.
Almost all public and private universities and colleges from the Czech Republic and Slovakia take part in the Gaudeamus Exhibitions, which are held every year in Brno, Prague, Nitra and Bratislava. The Exhibitions also attract a growing number of exhibitors from abroad.
The Exhibitions are organized by the MP-Soft a.s. company in cooperation with the Brno University of Technology, under the auspices of the Rector of the Brno University of Technology and other important personalities.
The Exhibitions are regularly visited by the majority of final year high school students in both the Czech Republic and Slovakia. Other groups of visitors include those interested in lifelong learning, school counselors, class teachers and education experts.
An extensive printed and electronic catalog of exhibiting schools is prepared for every visitor to the Exhibition. An important part of the Exhibition is the seminar program for those interested in detailed information about study offer of exhibiting schools.
Every visitor to the Exhibition can use the Advisory service, Testing center and Career advisory center to help him find the field of study, school or faculty best suited to their needs and abilities. Part of the fair is also the accompanying program Science for Life, which presents interactive displays and demonstrations of the content of study and research carried out at participating universities.
The priority of Gaudeamus Exhibition is also the long-term cooperation with educators and education counselors of secondary schools. Teachers and education counselors are provided with a complete information service in the form of materials about exhibiting schools and a specialized Information System for Educational Advisors.
A specialized program of lectures, seminars and consultations for educators is also a part of the Exhibitions.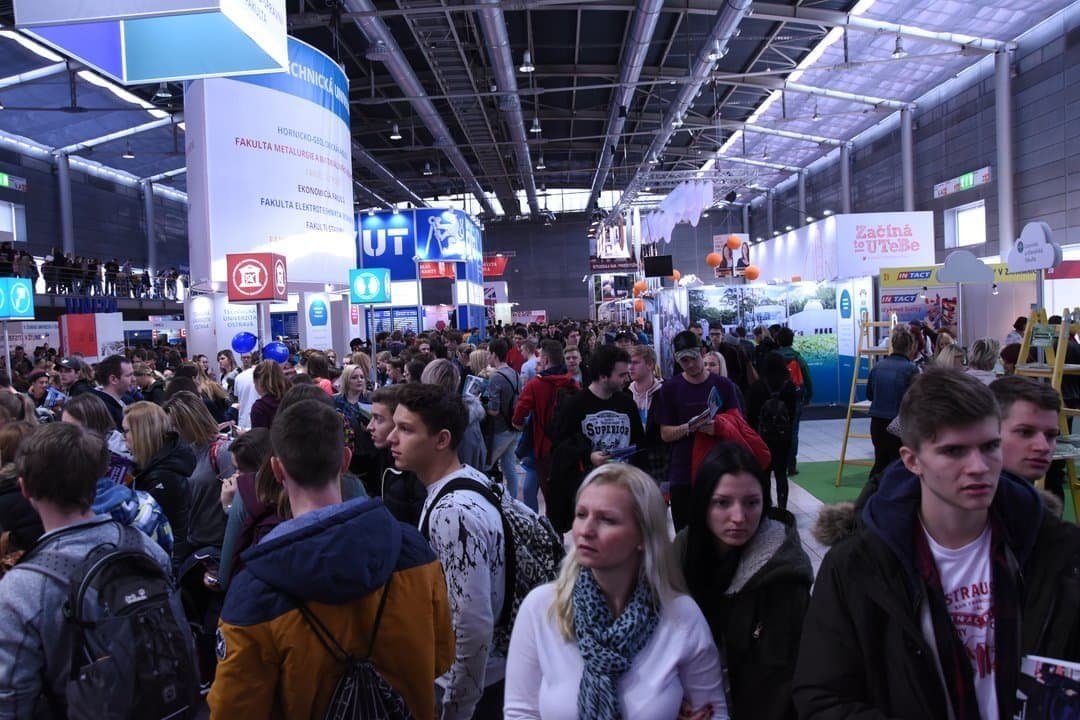 GAUDEAMUS AT A GLANCE
features and focus of gaudeamus exhibitions
Features:
Gaudeamus is the annual European Higher Education and Lifelong Learning Exhibition where Czech, Slovak and many international education institutions offer the most of study opportunities for students from central Europe.

Gaudeamus is a unique way to provide direct personal contact between students and educators in a pleasant and dynamic atmosphere.

Gaudeamus focuses mainly on providing useful information to individual visitors and discussing study opportunities with them.

Gaudeamus offers interesting accompanying programs: Exhibitor's Seminar, Science for Life, Advisory services, Testing center, Career advisory and Study abroad counseling.

Focus:
Domestic: Representation of the Czech and Slovak tertiary education, including universities, colleges, language schools, polytechnics and other education institutions, ministries and student information services.

Study Abroad: Universities, colleges, advisory institutions and language schools from all over the world aiming to promote their education programs and recruit Czech and Slovak students.

Lifelong Learning: Offers a wide range of business, technology, language, computer and communication studies, all kinds of daily or evening studies, MBA programs, Ph.D. programs and many more.

Visitor's profile:
Final year high school students with quality background in humanities, science, languages and computers. With strong desire and ability to pursue their further studies abroad in an international environment.

Bachelor and master students and graduates from all fields, with high quality degrees from prestigious Czech and Slovak universities, looking for further study opportunities and international experience.

Lifelong learning applicants, university graduates and working experts looking for post-graduate, MBA and other education possibilities.
LEARN ABOUT THE TARGET MARKETS
cZECH AND sLOVAK EDUCATION MARKET
HIGHER eDUCATION SYSTEM IN THE czech rEPUBLIC
The fundaments of Czech higher education date back six hundred years. In 1348 Emperor Charles IV founded a university in Prague which became the oldest academic institution in Central Europe. It is now called the Charles University.
Since 2001 the three-cycle structure has strictly been implemented in the higher education system (i.e. Bachelor's, Master's and Doctoral study programmes). The central governing body for education is the Ministry of Education, Youth and Sports.
TUITION LANGUAGE
The main tuition language is Czech, however the range of programmes delivered in foreign languages (mainly in English) is expanding in particular to cater for international students.
STUDENT ASSESSMENT
The frequency and methods of assessing students' achievements differ according to the field of study. In some cases, a system of partial examinations taken after each semester has been introduced, in other cases one comprehensive examination after each completed part of studies is prescribed, mostly at the end of a certain module. Study outcomes at higher education institutions are assessed mainly by a system of credits or points. The credit system (European Credit Transfer System) has been encouraged since it allows completed parts of studies to be recognised, thus contributing to transferability within the system.
DEGREE STRUCTURE
Higher education institutions offer accredited degree programmes at three levels: Bachelor's, Master's, and Doctoral, as well as lifelong learning courses. Higher education institutions can be either university or non-university types. Traditional university-type institutions may offer all types of degree programmes while non-university institutions are characterised by providing mainly Bachelor's degree programmes. The documents confirming the completion of studies and the right to the appropriate academic title are the higher education diploma and the supplement to the diploma.
Guide to studying and living in the Czech Republic
HIGHER EDUCATION SYSTEM OF THE CZECH REPUBLIC
Source: www.studyin.cz
HIGHER eDUCATION SYSTEM IN THE SLOVAK rEPUBLIC
HIGHER EDUCATION INSTITUTIONS
Higher education institutions (HEIs) are classified by the nature and scope of their activities into university type of HEIs and non‑university type of HEIs. The university type of higher education institutions provides education in the study programmes of all 3 levels of higher education (Bachelor's, Master's, Doctoral) with a significant portion of study programmes of the second level and study programmes of the third level. The study programmes are carried out in connection with activities of higher education institutions in the field of science, technology or art, and in compliance with the current state and development of such fields.
The non‑university type of higher education institutions provides higher education mostly in the study programmes of the first level.
Based on founding and funding there are 3 types of HEIs in Slovakia:
public higher education institutions

state higher education institutions

private higher education institutions
STUDY PROGRAMMES
Higher education institutions provide higher education within the framework of accredited study programmes. The study programmes are offered at 3 levels. The HEI can merge the first two levels of higher education into a single whole. The first level is the Bachelor study programme. The study programmes of the second level and those of the first two levels of higher education joined into a single whole are Master study programmes, Engineer study programmes and Doctor study programmes. The study programme of the third level is the PhD study programme and specialised training in medicine. All study programmes must be accredited by the Ministry of Education, Science, Research and Sport of the Slovak Republic.
International student's guide to slovakia
Sources: www.saia.sk, webgate.ec.europa.eu, www.euraxess.sk